The 4-day work week could be a solution to improving work productivity while also reducing office crowding in the post-pandemic Romanian workforce landscape.
Experiments undertaken in several countries support this argument, results showing a boost in work productivity coupled with other benefits: improved traffic congestion and less crowdedness in public transportation, reduced carbon footprint, reported higher work satisfaction and quality of life among employees.
The idea of cutting work time to boost productivity is not new.
Going as back as 1930 economist John Maynard Keynes posited that in a hundred years people would see a dramatic increase in their leisure time, as the working hours would see a significant cut. Prior to this, Ford was a pioneer of reducing the employees' working hours, implementing the five-day work week (as opposed to the standard six-day), which yielded a positive outcome in terms of productivity. Recently, in January 2020, Finland's Prime Minister, Sanna Marin, floated the prospect of implementing a four-day work week, in an effort to combat work-related stress and encourage employees to spend more time with their families.
Experiments show that a decrease in work hours could bring many benefits to both employees and companies.
In 2015 Sweden implemented the 6-hour work day as part of a pilot study in a nursing home in Gothenburg, one of its largest cities. The study concluded that workers who benefited from the reduced work hours reported less work-related stress, were more productive (increased the number of activities organized for the patients) and overall felt healthier.
Perpetual Guardian, a company in New Zeeland ran the 4-day work week experiment for 2 months in 2018, with results showing a steady performance among employees, who were motivated to optimize their work day by reducing down-time (taking long breaks, engaging in distractions). Additionally, workers reported spending more time with their families, finding more time for their hobbies and returning to work more energized after the long weekend.
In August 2019 Microsoft Japan experimented with the 4-day work week, granting 2,300 employees one extra day off per week. The results showed a 40% productivity boost and higher satisfaction among employees. Additionally, the company managed to reduce energy costs and print fewer pages of paper, thus cutting down its carbon footprint.
Romania reports a higher number of weekly work hours but lower productivity compared to other EU countries.
Compared to most other EU countries, Romania reports a lower labour productivity per hour worked. However, Romania also reports a higher number of weekly hours worked per person employed: 39,8 hours compared to the EU27 average of 37,1 hours (data available for the year 2019).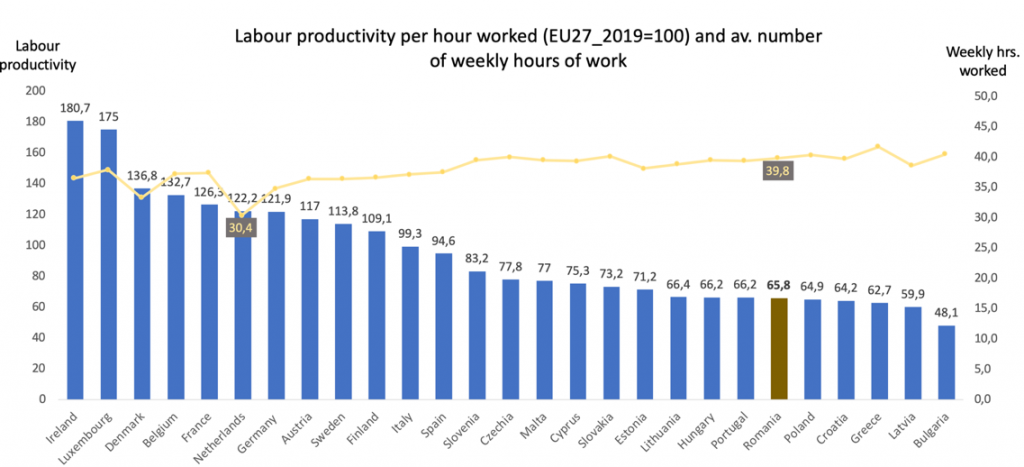 Data source 2: Eurostat
Figures suggest the need to come up with ways of improving productivity among Romanian employees, while also supporting a good work-personal life balance.
At the beginning of 2019 a country-wide lockdown that isolated people in their homes opened the door towards flexible working hours for Romanian employees. People needed to find ways of juggling work obligations with caring for their children, or helping them with school work. This unintentional experiment is likely to have significant consequences over the way people view their work day and their expectations regarding working hours.
Towards a better work-life balance for Romanian employees.
Several companies in Romania have already announced their plans of extending the work from home policy beyond the year 2020. A large Romanian online retailer reported higher employee productivity during the work-from-home period, although some experts have argued that the apparent productivity boost is due to people actually working more hours as the time spent commuting to and from work and the lunch breaks have turned into time spent working.
The question thus remains: Could cutting down on working hours for employees be a viable solution to increase productivity, while also reducing crowding in offices and public transport and encourage people to spend more time with their families, cultivate hobbies and learn new skills? While likely not a "one size fits all" solution, what better time than now to test it?
---
[1] Labour productivity per hour worked is calculated as real output per unit of labour input (measured by the total number of hours worked). Measuring labour productivity per hour worked provides a better picture of productivity developments in the economy than labour productivity per person employed, as it eliminates differences in the full time/part time composition of the workforce across countries and years.
Basic figures are expressed in PPS, i.e. a common currency that eliminates the differences in price levels between countries allowing meaningful volume comparisons of GDP between countries.